Yours Free for Visiting CustomerCounts
While you're deciding if the CustomerCounts
Customer Relationship Management system is
right for you, please let me 'give' you a 'free' copy of
The Six Key Elements of Achieving eMarketing Results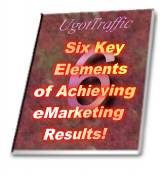 This newsBook details the 6 key elements of communicating specifically and effectively with each and every one of your customers. A successful permission based email campaign must be a win/win situation. These key points will provide you with the 'secrets' to achieve this goal!
 It's yours Free… as a thanks for visiting CustomerCounts.com


If you'd like, I will send this newsBook immediately and directly to your email box, free of charge... and of course, we will never rent, share or sell your email information to anyone under any circumstances.. we respect your privacy!
Send my free.... Six Elements of Achieving eMarketing Results to: