Powerful Copywriting Insights
The Halbert Copywriting Method Part III
Recently I had the great opportunity to assist my favorite copywriting buddy, Bond Halbert, with some edits for his book. I've had the pleasure of knowing Bond for many years and I also have the good fortune of being in a mastermind group with him.
Bond called me awhile back and asked if I would provide some editorial suggestions on parts of his Copywriting Method Part III draft. What a pleasant feeling I had when asked to assist with some edit critique from a nationally known copywriter.
When you read Bond's book you'll soon discover that a part of his insightful writing tactics is to get a second and third set of (critical) eyes to go over [his] wordsmithing. Not only to point out the exciting elements of the work but especially calling out the boring parts.

After Bond completed his composition I was lucky enough to be on his early mail out list. An autographed edition arrived on my door step and unbeknownst to me I was listed on his Thank You page inside the book. Each of the first 50 copies were then numbered, signed, and stamped with the corporate seal from Cherrywood Publishing, one of the the company when his dad, Gary Halbert, started to publish The Gary Halbert Letter. I have release #45… Wow!… Appreciations, Bond!

A review of Bond Halbert's Copywriting Method Part III book…
Copywriting and Marketing
The first thing you'll notice about Bond's book is that it is composed in large font format with double lined spacing. Bond captures the essence of an important composition element that he subscribes to… 'Make it easy to read'.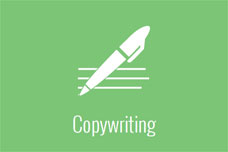 This copywriting book was also designed to be a wonderful quick reference guide. Of course you can read it all in one setting, as its depth of knowledge flows with ease. Yet if you're the type that wants a fast and insightful writing tip then you'll be pleased with the way the chapter sections are segmented, for example…
If you just have enough time to spend a few minutes delving into this publication then it's a perfect outlined for you. You see, any page you open to will provide you with a wealth of techniques that you can immediately apply to your copy at that moment!
An Editing Formula That Will Give You An Advantage

As Bond notes early in this reference book, "Sales copy must suck the reader in, be super easy to read, evoke an emotional response and motivate customers to buy which is a whole different goal than almost any other kind of writing."

Sales copy (or any powerful marketing content) is a different animal compared to journalism and academia writing. Breaking the grammar rules are allowed as the most effective copywriters and master salesmen have proven so.
Keeping Your Prospects Reading
Setting the hook, cliffhangers, complete sentences with incomplete thoughts are just an handful of powerful concepts included in Bond's publication. Keeping your readers feeling like they can't stop without missing out on something are tricks you'll discover in this book.
Insights as to how best to highlight words, insert power words, remove qualifiers and adverb hunt will have you fine tuning your copywriting. Interesting enough, musicians and comedians make decent copywriters simply because of their ability to relate to rhythm and time. When it comes to cliffhangers, high points, and transitions is all about rhythm.
So What?
Discovering 'power words' that 'punch' your copy will return fantastic results for you. How about uncovering some hidden psychology to make people chase your offer?… to quote Bond, "This is why I teach marketers to try and add some sense of urgency to their promotions but we can use this fight or flight instinct to punch up copy by making one simple change."
You've (no doubt) heard of the acronym, WIIFM (What's In It For Me). Yet Bond takes this essential copywriting element to another level with his 'So What' copy test. He provides some strategies to take a boring read to action getting text flow.
Bond Halbert
Bond, through his father, the late Gary Halbert (aka, the Prince of Print), got one of the most in-depth marketing educations in history.
His Dad was known as the greatest (direct sales) copywriter who ever lived (ed. note: I called him the David Ogilvy of North America), and he had more winners in more areas than anyone else alive. He passed all his knowledge on to is son, Bond, and you can read about this hidden knowledge of making maximum money in minimum time in his book, The Halbert Copywriting Method Part III.
I've provided a couple of links below if you wish to review and pick up a hard copy or Kindle version of Bond's work…
If you'd like to grab a 'hard' copy of Bond's book, go here…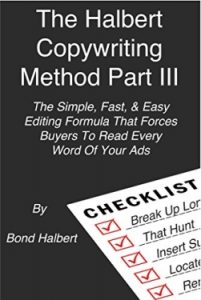 https://www.amazon.com/Halbert-Copywriting-Method-Part-III/dp/1534632050/ref=tmm_pap_swatch_0?_encoding=UTF8&qid=1480994652&sr=8-1
If you'd prefer to read as a Kindle eBook, go here…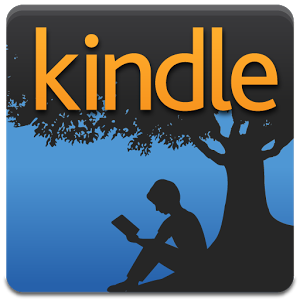 https://www.amazon.com/Halbert-Copywriting-Method-Part-III-ebook/dp/B01DYP3MMU/ref=tmm_kin_swatch_0?_encoding=UTF8&qid=1480994652&sr=8-1
Free Copywriting Checklist
At the end of Bond's book he provides a complete checklist of all the essential elements he provides for you within this publication. Also, you can send for a nice hard-copy notepad of the very same checklist.
With the power of the pen go forth and please use your expanded copywriting skills for the good of mankind !

Best Always!
-Michael
Here's a video interview with Bond that you just might find of great interest to gather some immediate marketing tips for your biz.
Creating a Copywriting Dynasty with Guest Bond Halbert: MakingBank S3E6

Tune-in to hear Josh talk to Bond about how he was being mentored at 10 years old and what he learned from being raised by copywriting legend Gary Halbert as well as…? The fundamentals that Bond bases everything off of.? What made his dad such a legendary copywriter.? Why writing is the wrong way to start copywriting.? A quick tip to get a higher open rate with emails.http://bit.ly/2L3hM1S

Posted by Josh Felber on Monday, July 9, 2018
The Gary Halbert Copy Club on Facebook
Here's a clip of Bond having a Live Facebook group feed about copywriting that you might be interested in viewing…
Want some free digital marketing tips?
Let's start with your initial complimentary digital marketing assessment valued @ $125. This general review will provide you insights as to exactly where you stand today with your digital marketing foundation. Including tips you should apply to your digital marketing presence today that will immediately enhance your business visibility!
With your Digital Marketing Audit along with Free Consultation Tips you'll be able to immediately incorporate these free insights into your business, which will further expand your online marketing resolve.
Simply call 970-335-9580 or, send a short text message, along with your business domain (URL) location